In August of 2011, Charley, Katie, and their two girls (Faith and Grace) moved to Bozeman, Montana, in order to help people take the next steps in their relationship with God and start what we know of today as Venture Church. For years, God has been impressing upon their hearts that He really is who He says He is and that He offers the the greatest life imaginable. It all started when their oldest daughter Faith was born 11 weeks early (at 29 weeks). She was born at 2 lbs. 7 oz. and they were told for days that she wouldn't make it through the night. As they walked through the process of loosening the grip on their lives and allowing God to work, they experienced the grace, the mercy and the presence of God in ways that have forever changed them.

Moving to Bozeman was another "step" that God was asking them to take, and one they can't imagine missing out on.

After moving, they committed to serving the community for 6 months before they launched their weekly celebration services. From that time, several people have experienced freedom from addictions, seen their marriages restored, and their lives have been transformed as they've submitted themselves to Jesus. In the process of this new church being birthed, they also gave birth to a son, Asher, and a daughter, Selah.

As they enjoy this next chapter in their lives, they're excited to see what God has in store for them. They look forward to meeting you and sharing many years with you here in Bozeman.
Becky grew up on her family's small country farm in mountains of Northern CA, this gave her a great love and appreciation for the outdoors and working hard. Both which made it easy to move here to the Gallatin Valley in 2016, following her husband Dale's retirement from the Air Force. While she and her family have enjoyed an exciting military life traveling around the world, after 11 moves they are ready to sit still for a while and enjoy Bozeman and the beautiful state of Montana. Dale and Becky have two boys, both with fabulous wives – and one new granddaughter.
Becky joined the Venture team as Administrative Assistant in December 2018. This decision was a huge step of faith and is radically changing the way she had previously saw her life and where she thought it was going. It is both an exciting and intense story she is thrilled to be in the middle of and is eager to see how each next chapter reads as she continues to learn and relearn to trust God and His best for her, and what He's equipping her for next!
John and Corina are long time Bozeman residents along with their kids, Ezekiel and Naomi. They love Bozeman due to its diversity, its beauty, and its access to the outdoors and all its activities.

John is the Director of a non-profit that was born from the desire to give people a hand up in their time of need. John has gotten to witness God and the local church transform people's lives first hand. "It's amazing when you get to play a part in God radically grabbing a hold of someone and giving them a new start, and the hope that comes with that."

Organizing Serve The City projects is another one of the ways John gets to partner with Venture. These service events are an opportunity to bless the community as well as hang out with and get to know each other better as they are actively "Being the Church".

The Paszkiet's love being part of Venture where they get to cultivate new relationships and be part of a group that loves people and isn't afraid to get out into the community and serve.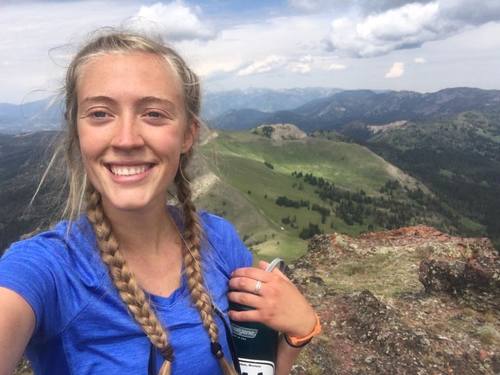 Children's Ministry Director
Though Elyssa Howard has lived in MT, MN, and WY, sometimes her Minnesota accent comes out when she says "bag" funny. Growing up, her mom would have to limit the number of times she could serve in the church nursery each month since she loved hanging with the kids! Elyssa began attending Venture when she started college at MSU and later graduated with an Elementary Education Degree.
Elyssa worked at a Bible camp called Yellowstone Alliance Adventures all through college. She saw God work in many kid's lives by sharing his truth and love and wanted to continue to be a part of it. Elyssa started as the kid's director the fall after she graduated college and is excited to share the hope and love of Jesus to the kids in the Gallatin Valley. When Elyssa is not hanging with Venture kids, she is enjoying time in the outdoors with her family and friends in Bozeman.
Resident Serving Teams Coordinator
Lisa grew up in a small, rural German community near Great Falls, MT. Sie macht gutes Deutsches essen. God radically transformed her life at the age of 12, and she has been a passionate follower of Jesus since. Lisa loves to travel which has given her a love for other cultures, as well as opportunities to see what God is doing in the global church.
Lisa moved to the bustling Bozeman in 2015, and enjoys the beauty and culture of Boz-Angeles. She recently graduated with a degree in Early Childhood Education and Family Services. She is currently a resident at Venture Church where she works as the First Impressions Director. Serving her church community has always been an important part of Lisa's life, and she is passionate about Christian community and discipleship. She is excited to get to be a part of what God is doing in and through Venture; and can't wait to see how God is going to continue advancing His kingdom!
With a B.S. in Statistics and more contacts in his phone than you can count, Jeremy is probably the most social nerd you've encountered. After growing up in the archrival city of Missoula, he saw the light and attended college at MSU in Bozeman.
Jeremy loves the challenge of finding ways to use technology to reach people who wouldn't normally want to engage with the Church or hear the Gospel of Jesus Christ. He also relishes the opportunity to teach and grow leaders and wants to make the biggest impact for God's kingdom he can. When he's not discipling people, songwriting, or enjoying the great outdoors with friends, he likes to "hack" unsuspecting coworker's computers when they leave their emails open.